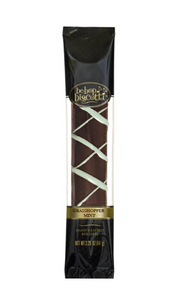 12 Individually Wrapped 2.25 oz Biscotti 

A velvety blend of dark chocolate, peppermint and chocolate chips, with a dipping of dark chocolate icing, and criss-crossed with mint ribbons. This biscotti is cool and refreshing enough for a hot summer day or it can lend itself to the warm glow of the holidays.
| | |
| --- | --- |
| Total Dozens | Price Per Dozen (Includes Shipping) |
| Buy 1 | $42.00 ea |
| Buy 2 | $33.00 ea |
| Buy 3 | $30.00 ea |
| Buy 5 | $25.00 ea |
| Buy 10 | $20.00 ea |
| Buy 60 | $18.50 ea |

* The Volume discounts above are applied at checkout and may include multiple flavors. For example: An order of 5 dozen can be 5 different flavors. Volume discounts apply to multiple dozens shipped to a single location.
We offer Heat Protection for an additional cost:  We will carefully package your order in a thermally lined box with ice blankets to avoid heat damage during transit. Note - you will need to add a liner for each shipping case in your order.
With & without the thermal packaging we suggest following these instructions:
***Before Opening***
If your package has traveled through temperatures over 80 degrees, we suggest that you place your unopened package in a freezer or refrigerator for 10-15 minutes. This will help "reset" the icings on the biscotti. Opening your package before cooling will likely cause the toppings to stick to their packaging and not recover as nicely.